Thanks to the "Calls" plugin you can easily keep an eye on incoming, outgoing and missed calls on your phone directly from Mac. Get your hands on full information for your contacts: phone number, photo, duration of calls, time and date. An unlimited number of phone calls is kept for your convenience, and can be exported to TXT, CSV or HTML formats.
About SyncMate Expert
It is really unlikely that there is anything SyncMate can't do. It can synchronize folders between your Mac and Android phone or tablet no matter how many files each folder has.
Not only can you track Android call history on Mac, but you can also sync images, videos, music, playlists, browser bookmarks, etc. You can also text directly from your Mac as well as remove and search through text messages. SyncMate also allows mounting Android as a Mac disk.
Did you know? There is also free version of SyncMate that allows syncing contacts and calendars on Mac with your Android.
How to manage Android call history on Mac
Working with Android call history on Mac is as easy as can be:
Download SyncMate and install on Mac. The "Calls" plugin is available in Expert edition, so you'll need to upgrade to it here. Of course it is recommend to try SyncMate Free Edition first.
Connect your phone or tablet to Mac.
Open SyncMate and in its left panel click 'Add New' option and select the Android device you are going to be working with.
Click the "+" button in the top panel and navigate to "Calls" plugin. Here you can look through and flexibly manage your calls. Read on for the detailed description of all options available.
Calls filter. Filter by incoming, outgoing, missed calls, or view all at once. Really easy to use, just check the corresponding box to see specifically what you want.
Export.Export Android call history on Mac as a TXT, CSV or HTML file.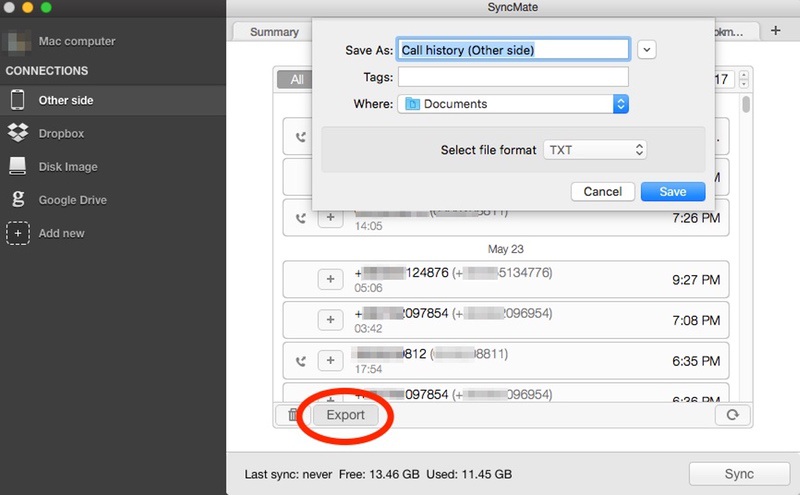 Refresh.Get your hands on the latest call history you have on your phone. Once you hit "Refresh", SyncMate will load the latest calls and add to the list.
Delete.Update the calls list on Mac according to your current call history on phone, i.e. if you have deleted some calls from history on the phone, they will be removed on Mac too.
New phone numbersTo add a new contact on your Mac click the "+" button next to the corresponding number that's not in your list yet.
Summary
Now that you know how to view Android call history on Mac you' ll be pleased to know that SyncMate has much more to offer! You can sync your Mac with iOS devices, other Mac computers, online accounts and storages (iCloud, Google, Dropbox), Windows services (Outlook, Office 365 Home and Business editions) as well as benefit from numerous other non-sync options.
Read lots of useful information about supported devices/accounts and sync options for them here.
More How To's