Find alternative HiSuite for Mac | SyncMate
Ever wanted to keep data updated between Mac and Huawei? Forget about updating contacts and calendar events manually or downloading the same songs on your Mac and Huawei phone every time.

Stop wasting your precious time on what can be done faster or even automatically. SyncMate, a perfect Huawei HiSuite for Mac alternative, will update all data you have in your Huawei smartphone with Mac and vice versa.

Bet you are interested. Keep on reading to learn more about all sync possibilities SyncMate gives you.

List of Top Solutions to Connect Huawei to Mac
1. How to Sync Huawei Contacts with Mac
There are not many options available when it comes to syncing contacts on your Huawei mobile device with your Mac computer. Therefore, this section focuses on one option that we think will be your best bet for accomplishing this.
We believe that the best way to get the contacts from your Huawei mobile device onto your Mac computer is by using an application called SyncMate.
Syncmate allows you to connect Android to Mac in a way that previously wasn't possible. This program allows you to easily sync your contacts and data on your mobile device with your computer, provided that your computer runs on Windows via its Hisuite app, but there is no Hisuite for Mac software available from Huawei. So, what's a Mac user to do? Download SyncMate!
Here's a short guide on how to sync your contacts from your Huawei mobile device onto your Mac computer via SyncMate:
1

2

Install this software onto your Mac computer. There is a "pro" option available, which has more sync options and customizable settings, but you do not have the upgrade to this option in order to perform a simple Huawei Mac sync.
3

Open SyncMate, and click the "Add New (+)" on the left side of the program. Then, choose "Android device" for your Huawei phone.
4

You'll see a variety of tabs at the top of your screen, navigate to the right of these tabs and click the "+" button. Next, specify your sync parameters.
5

Once you've chosen your parameters, click "Sync" and your contacts will be synced between your Huawei device and your Mac computer.
2. How to Sync Photos from Huawei to Mac
There are a few different applications available for downloading the photos you've taken with your Huawei mobile device onto your Mac computer. In this section, we will explore some of these options, and present you with what we believe is the best solution.
Using SyncMate as HiSuite for Mac: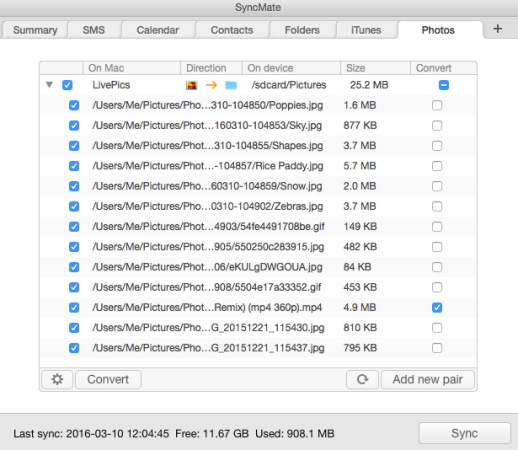 1

Again, connect your Huawei mobile device to your Mac computer via the USB cord.
2

Download SyncMate. You will need to upgrade to the Expert edition for $39.95 in order to sync multimedia files like photos and videos.
3

After you've upgraded, open SyncMate and click on the "Add New" button on the left-hand menu. Choose "Android".
4

Then, press the "+" button on the top menu and choose "Photos" from the list of plugins.
5

Specify your sync parameters, such as which albums or folders you'd like to sync and which you would not.
6

SyncMate also allows you to manage your conversion settings. This means you are able to pick the type of file and quality of the images you're syncing.
3. How to Sync Huawei Music with Mac
Transferring music from your Huawei phone to your Mac computer and vice versa is, unfortunately, not an automatic process, so you will need to download a separate application to do so. There are only a few options out there, and we believe that SyncMate provides you with the best features at the best price.
Here's how to sync music from your Huawei device onto your Mac computer: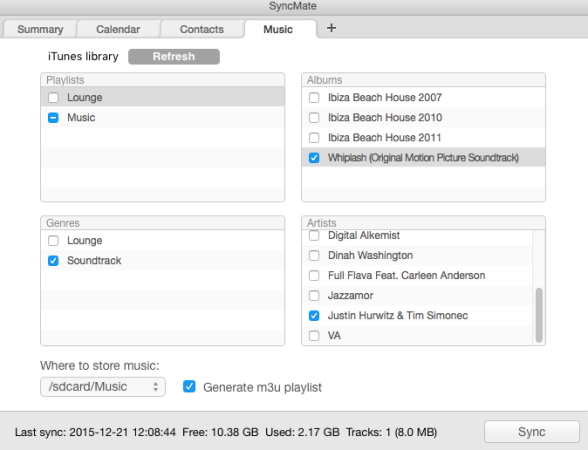 1

2

Once you've upgraded, click the "Add new" button on the left-hand side of the app and choose "Android".
3

Then, press the "+" button at the top right-hand corner and choose "Music" from the plugins list.
4

You'll then be able to choose parameters, such as which playlists, genres, albums, and/or artists you'd like to sync between your two devices.
5

Choose which folder on your Mac you'd like the music from your Huawei mobile device to transfer into, and click "Sync".
4. The main features of SyncMate
About SyncMate
To put it simply, SyncMate is like a highly qualified personal assistant for
Mac files sync
and transfer between Mac and Huawei smartphones. To say some more - SyncMate will quickly become your best sync and transfer app for Mac and Huawei.
Contacts and Calendars synchronization
It can get quite frustrating to have to add new calendar events or newly acquired contact information to Mac and Huawei separately. Let your fingers have much needed rest and let SyncMate update contacts and calendars on your Mac and Huawei.
Let the music guide you
If there is a playlist in your Music that you can't stop listening at work, why not take it for a spin on your Huawei? SyncMate will ensure all tracks are accurately synced and you can sing along wherever you go.
Manage photos and videos
SyncMate takes good care of your photos and videos and updates them on both device and computer accordingly. And it makes it even better, it is not just plain synchronization - you can actually change image resolutions and convert videos to various formats, choosing codec, resolution, bitrate and frame rate before you sync.

Need a simple file transfer? - Try MacDroid
Transfer Photos, Videos, Music, and manage entire Folders between your Mac
computer and your Android device connected via USB.
Text from your Mac
We call SyncMate your assistant for a reason. Among all things it can do it also allows you to communicate with the world more conveniently. You can effortlessly create, send, read, or even delete your text messages on your full-sized computer keyboard. SMS Export is also available.
Go big - sync whole folders
You can sync entire folders instead of separate files between your Mac and smartphone. As a tip you can set up one folder to be automatically synced, and throw any file you need to be accessible everywhere in that folder whenever there is a need.
Integration with your favorite apps
SyncMate is a hard worker and it doesn't delegate! The app works directly with Address Book and Contacts apps as well as with Music on Mac and Music in Android and doesn't involve any other apps or services, which certainly makes SyncMate a perfect Huawei HiSuite for Mac replacement.
The icing on the cake
Any of your favorite sync features can be automated, so you don't even have to remember to initiate the sync - SyncMate will update everything quietly in the background.
Sync your Android phone or tablet
SyncMate is compatible with any Android 5.x-11.x device. You can sync your Mac with:
Samsung Galaxy
Xiaomi
Lenovo
LG
Meizu
Vivo
Moto Droid
Oppo
Nexus
Samsung devices
Android Nokia
Google Pixel
BlackBerry
Sony Xperia
Asus
OnePlus
Acer
Dell
Archos
5. All You Wanted to Know about Mac Android Synchronization

In this section, we will go over some FAQs about syncing the data on your Huawei mobile device with your Mac computer.
It used to be impossible to sync data between Huawei Android devices and Mac computers, and vice versa. Over the last few years, a few applications have sprung up to satisfy this lack of options, but we believe that SyncMate is your best choice for doing so.
We hope this article has provided you with some options to choose between, and demonstrated how to use and navigate these options in order to choose which application works best for your needs.
We firmly believe that SyncMate offers the most high-quality options for the best price, which is why this application is featured so prominently in this article. Happy syncing!

#1 at Utilities
SyncMate Expert
Mac synchronization software
4.5
rank based on
795
+ users
Get a download link for Desktop
Submit your email address to get link for quick download and get started!
Requirements:
,
57.16MB
free space
Pricing:
Starts from $39.95
Languages:
Deutsch, English, Français, 日本の, Русский, Español, Norwegian