List of the top software to sync iPhone 7
and Mac
Are you only using iTunes and iCloud to sync your iPhone 7 with Mac? Or do you feel that these two apps are not giving you the full range of options and are holding you back? Well, there are many things they can't do indeed. For example, you won't be able to mount your iPhone as a Mac disk and freely browse its content if you are using iCloud or iTunes as your synchronization services. Also if you want to be able to sync your iPhone with multiple Macs or non-Apple devices, you'll definitely appreciate a third-party app that offers you all that and more. Let's have a look at the best software to sync iPhone 7 with Mac and see which is the first choice for you.

First comes SyncMate for many reasons. It's SyncMate's versatility and efficiency that makes it the top software to sync iPhone 7 with Mac for us. This app allows syncing personal data (contacts and calendars), media files, folders, reminders, bookmarks, and more. Additionally to be able to sync a lot of stuff, SyncMate can also mount your iPhone 7 as a Mac drive so you can access its contents in a convenient way and browse it like you would browse any other external drive.
If you are not a fan of storing your data in a cloud but still want to be able to access it from your other devices, SyncMate is right for you as it syncs everything directly with the apps on devices. Also it will never ask you to reset your iPhone 7. The app is super versatile and can do a lot, still maintaining the simplicity of usage.
Download for FREE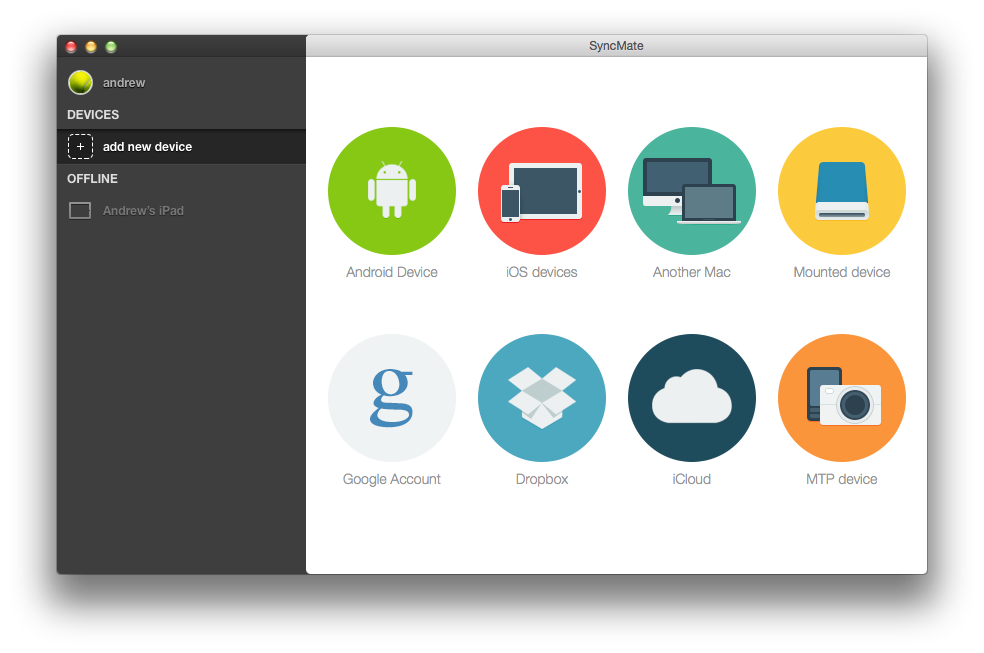 Syncios has an easy to understand interface and was most efficient with syncing music, videos, photos, apps, ebooks, contacts, messages and so on between a Mac and an iPhone 7 during the tests we did. This is a good tool and handles the sync processes really well. Syncios also offers the ability to extract iTunes backup files and use your iPhone 7 as an external storage. One can manage iPhone notes, contacts, and bookmarks from Mac with the help of this app.
BusyMac is a little bit different from previous solutions as it concentrates on syncing certain data instead of syncing everything with everything, which may be a good option if you only need to sync calendars or maybe contacts. Even though the sync options are narrow, you'll surely appreciate the app's accuracy./p>
We consider PhotoSync to be of the same league as Syncios, as it purely concentrates on a certain syncing option - media files it is. PhotoSync does a great job with photos and videos - transfer, backup, share photos and videos between iPhone 7 and Mac over Wi-Fi. This app doesn't require cloud usage as well.
Cloud Storages
Well, and if you do prefer using clouds for syncing your data, then here are the top cloud services you can use.
An exclusive storage and backup system for Apple device owners iCloud has the ability to sync and save data you have on your Mac and iOS devices. You can have a free iCloud storage or upgrade it to paid one and have all your data in the cloud accessible from any of the devices you own.
This service is rather popular and works not only on Apple devices but on any devices you own. It doesn't only offer certain size of free storage space for data, but also lets you share your cloud files with other people. The only thing you'll need here is Internet access.
Hopefully our study on the best software to sync iPhone 7 with Mac will turn out to be helpful to you and you'll find your ultimate app right away.
SyncMate Expert
Requirements: OS X 10.8.5+ ,
53.1MB
free space
Version
7.1.375
(
11th Feb, 2018
)
Release notes