How to get iTunes music on Samsung Android phone
iTunes is a great program for storing and managing your music, and no wonder that most – if not all – Mac owners rely solely on it to organize and enjoy their music content. iTunes store offers millions of songs and automatic syncing – but only to Apple devices.
So things can get a bit tricky if you decide to leave Apple ecosystem and buy a device that run a different OS, say, a Samsung Android phone. If your new phone has a storage expansion slot, things seem to be OK - you can use mass storage mode to drag and drop audio files. But what if your device is not equipped with such a slot? Do not worry. With a wide range of Android devices available on the market, there are multiple ways to transfer music from iTunes to your Android device.
Contents
Third party apps
Manufacturer's software
Manual transfer
Comparison table
1. Try SyncMate to transfer music to Samsung with Android from Mac
SyncMate is choice # 1 for those who prefer all-in-one solutions. The app offers a range of options for managing your music collection. The best is that apart from enabling you to create new playlists right in the app's window, it works wonderfully well with already existing playlists.
To start using SyncMate you need to set it up first, this will require following a few simple steps. Other sessions will only take a click.
Here is what you have to do:
Step 1. Download SyncMate and install it. Once you launch SyncMate, you need to tell the app how you would like your Mac and Android to connect – via USB, over Wi-Fi or Bluetooth. Then follow the instructions to establish the connection – the procedure is really simple.
Step 2. Choose what to sync. SyncMate, as its name suggests, enables you to synchronize different types of content between your Mac and Android device. Since our main concern here is music, select Music in the list displayed and we are good to go.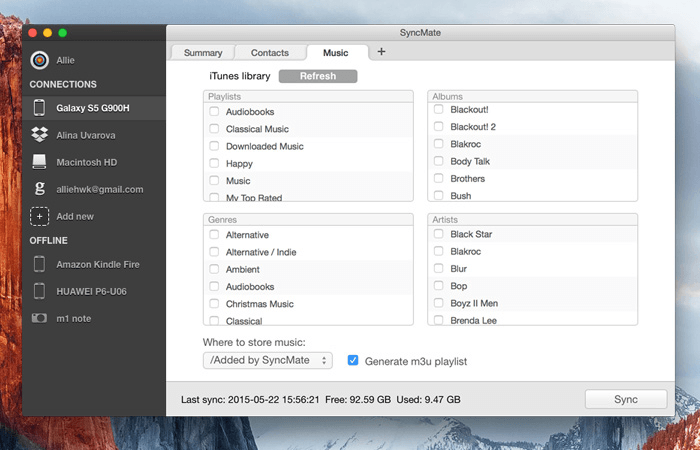 Step 3. SyncMate transfers Music organized by playlists, albums, artists and genres with their metadata and album covers.
Step 4. Click 'Sync Now' button, a progress bar displayed will inform you when the transfer is complete. Now you can disconnect your phone and enjoy your favorite tunes!
2. Use Samsung Kies to Download Music from iTunes to your Android
Samsung Kies by Samsung is an app used to communicate between computers and devices that run different OS. It manages transferring music and other types of media from computer to Samsung Galaxy phones. All iTunes content and folders are synced to Samsung Kies, then you can transfer it to your phone. Below is a tutorial on how to do it, we'll take a tutorial for Mac, but do note that the mechanism is pretty much the same for both Mac and Windows OS.
Step 1. Download Samsung Kies on Mac from Samsung official website, install and launch it.
Step 2. Connect your Samsung device to Mac using a USB cable. The system will detect it and display in the left sidebar of Kies window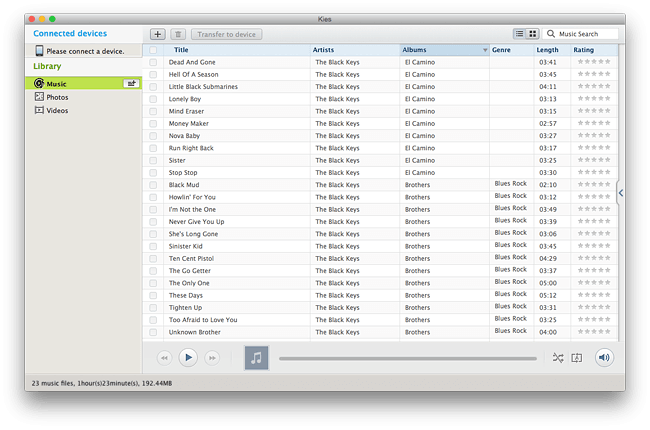 Step 3. In the menu on the top click File > Import iTunes playlists to Library. Once Library directory opens, click New Playlist, you'll find all your iTunes content there.
Step 4. Choose the songs you'd like to have on your phone and click Transfer to Device.
3. Transfer your iTunes tracks to Android phone in a classy way
If you used Android devices before, you might have heard about Android File Transfer. This freeware is available for download from Android.com.
Download and install the app, then connect your Samsung phone to Mac with the help of USB cable. Android File Transfer will open automatically to display your phone's file tree.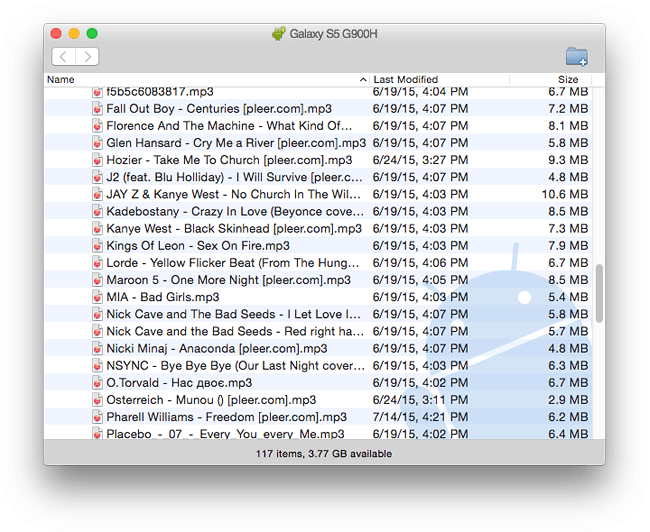 Now you need to find the iTunes folder on your Mac, it is usually stored in iTunes Media directory – all your music should be there.
Drag-and-drop the tracks you need into the music folder in Android File Transfer.
4. Comparison table
It's up to you to decide what way to choose, but here is a little comparison table to make it easier:
Kies
SyncMate
AFT
Pros
Free
· Enables transferring and creating playlists
· Can communicate over wireless connection
· Free
· Plug and play
Cons
· Does not transfer playlists
· Buggy
· Paid
· Does not transfer playlists
· Unreliable connection
SyncMate Expert
Requirements: OS X 10.8.5+ ,
53.1MB
size
Version
7.1.375
(
12th Feb, 2018
)
Release notes