All sync service Mac user can choose from
SyncMate is an all-in-one sync service Mac users can depend on to sync files and data across all devices, accounts, and computers. The free version can provide a solution for basic syncing needs, while SyncMate expert gives you even more options and settings to keep your files in perfect synchronization across all devices and accounts!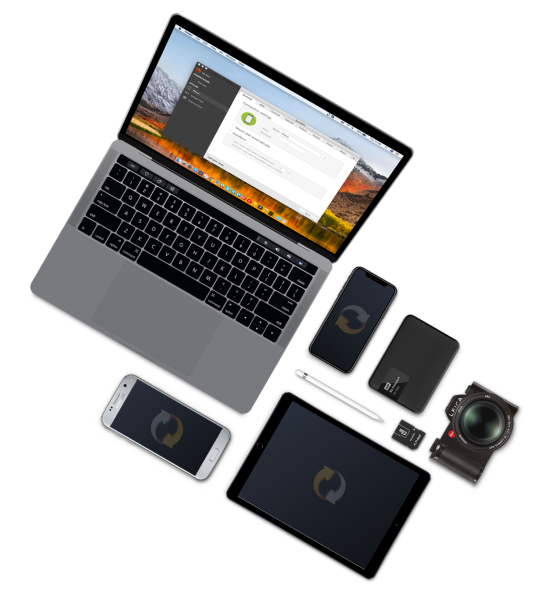 Free features
The free sync services Mac users with SyncMate can access keep your calendar and contacts organized and updated in your Mac and all other devices or accounts you use. The background sync feature makes the process faster and easier. The free version is great if you want to try SyncMate before upgrading or if you just need the basics!

Background sync
The background sync feature does what is says: it syncs and updates files silently in the background while you work on other things. Background sync ensures that you can sync files from your Mac to your devices and cloud accounts without interrupting your work and makes the process even faster.
Expert features
For the full SyncMate experience with all the features you need to sync your Mac with your devices, you need the expert version. With SyncMate expert you can sync SMS text messages from your phone to Mac, do backups, share folders, transfer photos, and sync Apple Music.
Sync even more
SyncMate expert was designed to do it all with features like mounting your device as a disk for browsing, autosync, and cloud service syncing. If that's not enough, SyncMate expert also lets you sync your call history, Safari bookmarks, and reminders to keep you organized no matter what.

Mount device to sync
When you connect a flash drive, external hard drive, or really any other device to your Mac using SyncMate, you can sync files and even folders between your devices in minutes.

AutoSync
AutoSync ensures that your data is always in sync and updated on your Mac and whatever device or computer you connect through SyncMate, so you never lose files. Best of all, with the background sync services feature, you won't even notice your files syncing while you continue to work seamlessly from Mac to Mac or on your devices.

Cloud sync
Using cloud services like iCloud, Dropbox, Google Drive, and Microsoft OneDrive can mean tracking files across these different accounts. SyncMate turns your Mac into a hub that can easily transfer and sync files in your cloud software, making life much easier.

Call history
Get a lot of calls? SyncMate lets you upload and check your call history from your phone on your Mac, so you can see incoming, outgoing, and missed calls plus details like the caller number, duration, date, and time. You can even export the data into TXT, CSV, and HTML formats to save for your records.
Safari bookmarks
Manage your Safari bookmarks from your Mac with SyncMate. You can edit, add, and delete Bookmarks and folders remotely using the app to keep your Safari Bookmarks synced across all devices.

Reminders
Keep all the Reminders you set for yourself in order with SyncMate expert. You can sync Reminders from Mac to your device, device to Mac, or both ways, and you can organize your Reminders into a folder or delete them remotely from your Mac.
The frequently asked questions

#1 at Utilities
SyncMate Expert
Mac synchronization software
4.5
rank based on
795
+ users
Get a download link for Desktop
Submit your email address to get link for quick download and get started!
Requirements:
,
57.16MB
free space
Pricing:
Starts from US$39.95
Languages:
Deutsch, English, Français, 日本の, Русский, Español, Norwegian