Manage Android SMS on your Mac
While you are working at your computer you don't really want to be distracted by incoming texts. But what if you do, just without picking up your phone all the time? Use SyncMate's great capabilities for not just syncing but also managing SMS messages directly on Mac. You can view, send, export texts to other formats. Typing on Mac keyboard is pretty convenient too.
A few words about SyncMate
SyncMate is a powerful sync tool that allows syncing data on Mac with Android devices. Free version of SyncMate allows syncing contacts and calendars between Mac and Android; paid (Expert) edition will sync images, videos, music, playlists, folders with files and more. With Expert edition you can mount Android as a Mac disk and sync data automatically.
Managing SMS directly on your Mac
with SyncMate
SyncMate Free edition lets you read text messages of your Android right on your Mac (Inbox, Sent, Draft, Outbox).
Please note that if you want contact names to be shown instead of telephone numbers, you will need to sync Contacts between your Mac and Android first (can be done with SyncMate Free edition).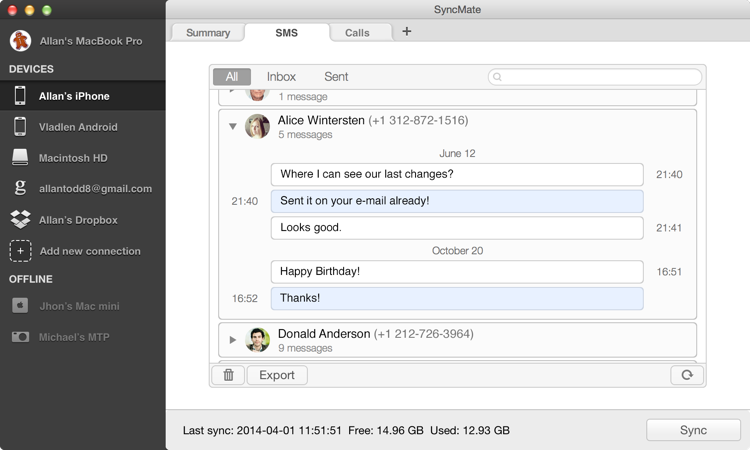 SyncMate Expert gives you wider range of SMS management options. With Expert Edition you can not just view, but also send (create new messages or reply to received ones), export messages, remove chats and search through SMS.
Sending messages
With Expert version of SyncMate you can send text messages right from your Mac (your device should be connected to Mac) - just click "New text (SMS)" button.

You can also send messages to multiple recipients at a time.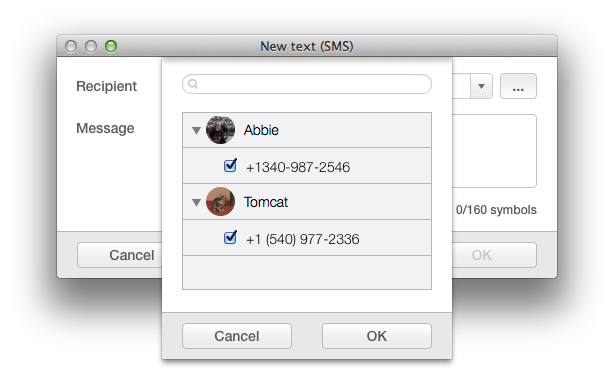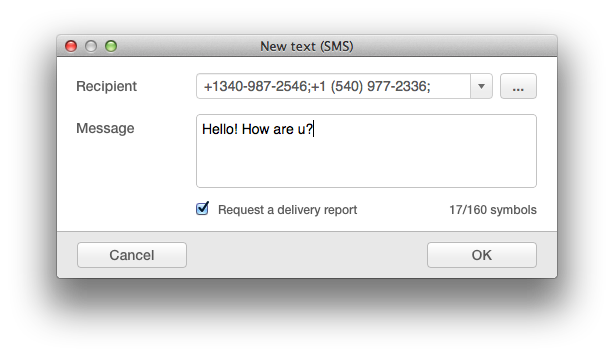 Exporting messages
SyncMate Expert allows exporting messages from your Android to your Mac in HTML, TXT and CSV formats - just click "Export" button next to the message.

And choose the required format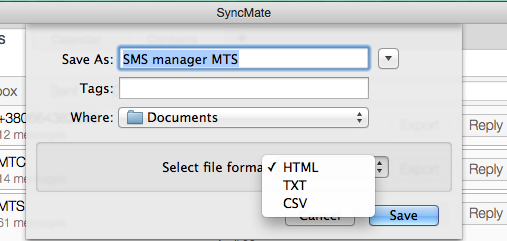 Summary
Besides Android devices, SyncMate will sync data on your Mac with iOS devices, other Mac computers, online accounts and storages (iCloud, Google, Dropbox), Windows services (Outlook, Office 365 Home and Business editions).
Find more info about supported devices/accounts and sync options for them here.
Compatibility
SyncMate requires OS X 10.10 and is compatible with Android 4.x-9.x devices and iOS 5.x-12.x devices.
More How To's