How to sync Outlook Calendar with Mac
It's been long since email has become part and parcel of our life. We send and receive emails every single day using different email clients, but it is no secret that till date the corporate world prefers Microsoft Outlook. The app has been around for sometime and its functionality is appreciated by a lot of users. Not only you can send, receive and store your emails in the app, you can also use it for storing your Contacts and other data, marking events in Calendar, etc.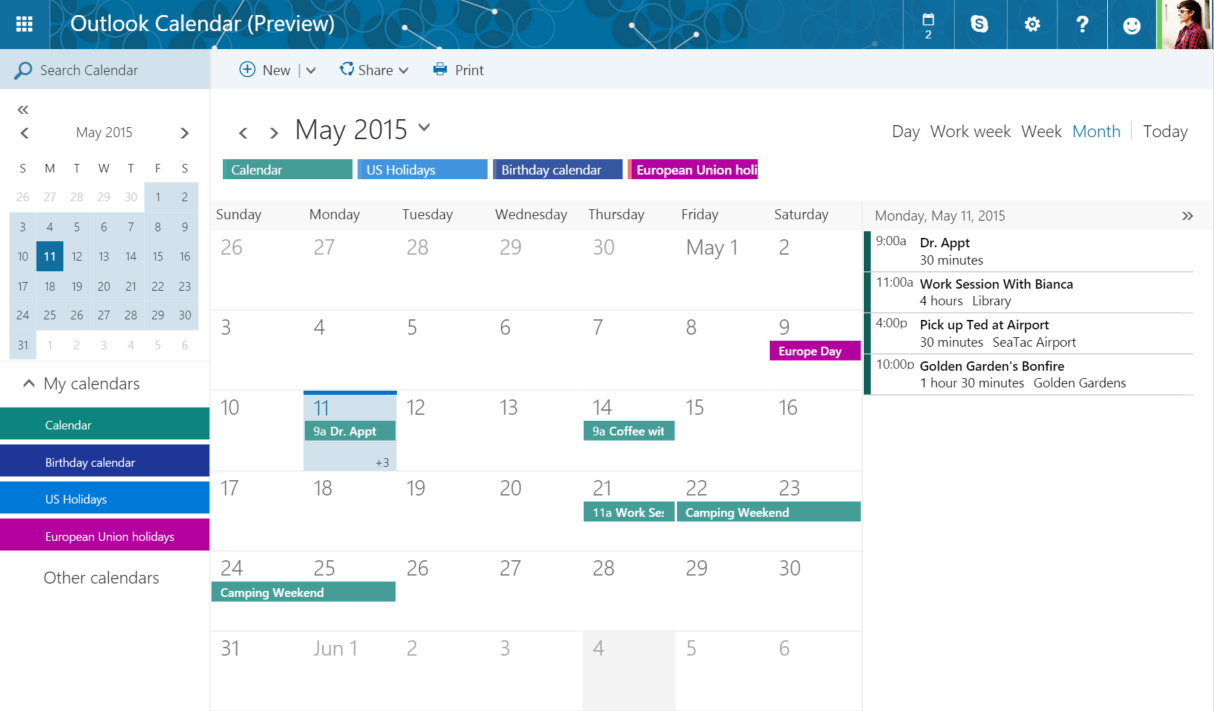 Having said that, let us not forget that Outlook is a MS product and it is meant primarily for Windows users. There are certain limitations when it comes to using it on Mac system, one of them being calendar entries synchronization.
There are certain ways to go about it, e.g. you can sort of sync calendar entries via online services such as Google Calendar. But here we will talk about the easiest way to sync your Mac and Outlook Calendar events - with the help of SyncMate.
So what is SyncMate?
SyncMate is a software tool that enables syncing your Mac data with data stored on Google Drive, Dropbox, OneDrive, iCloud and other online cloud services; various devices, including iOS, Android and MTP devices. The application can sync not only Calendar entries, but also Contacts, files, folders and media libraries (iTunes, iPhoto). You can opt for automatic synchronization, the app will do it for you in the background, so nothing will distract you from your work.
Due to macOS limitations SyncMate only syncs with online Outlook accounts; sync with desktop Outlook app for Mac is not supported at this time.
Sync your Outlook Calendar with iCal
To sync your Outlook Calendar with Mac Calendar, do as follows:
Download and install SyncMate on your Mac. Once the installation is complete, launch the application to display the main window.
In the left pane click 'Add New' link. Wizard will assist you, just make sure to click Microsoft Services button to choose Outlook. Note, that sync is performed between your Mac and Outlook online account.

Login using your username and password.
Specify synchronization parameters.

Click 'Sync'.
There is a handy Autosync option - go for it if you want the app to do all the work for you in the background, and you can carry on with your other tasks.
SyncMate also enables mounting OneDrive cloud storage, so you can access and manage data on it as if it were another disk on your Mac.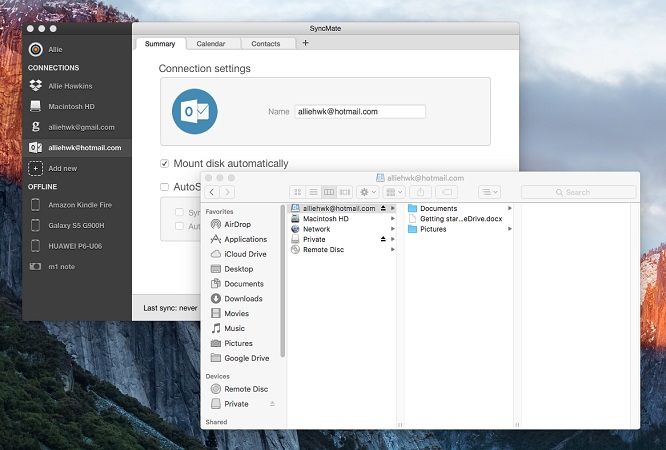 Mac synchronization FAQs
Q: Why is syncing data on Mac OS X needed?
A: Because when you want to keep data up to date across multiple devices, it is the easiest way to go. The alternative is updating everything manually and doing so on your Mac, then on your phone and cloud services can be very time consuming. If you use SyncMate, you just need to connect your device to macOS and then choose exactly which data to sync. The entire process lastas a couple of minutes.
Q: Is there a difference between data transfer and Mac data synchronization?
A: Data transfer refers to the process of simply moving a piece of information from one device to the other. Data transfer can be done between a computer, mobile devices or even cloud storage. With SyncMate, besides data transfer you get synchronization which is the process of equally updating data on each side of the transfer process. So you make sure that all devices get all the updated information at the same time.
Q: Is there a device limit I can sync with Mac through SyncMate?
A: SyncMate won't ever limit the number of accounts or devices you can sync with Mac Os X. You can contact as many devices as you need, transforming your Mac into a veritable sync center. As an iOS sync Mac solution, SyncMate gives you the possibility of connecting Android and iOS devices no matter the numbers.
Q: Can I Use SyncMate Offline?
A: Yes, SyncMate gives you the ability to synchronize Mac computers with other devices through Bluetooth, USB or Wi-Fi so you can also do it while being offline.
Few facts about SyncMate
Without doubt, SyncMate is the only tool that offers a Sync Service to transfer data between Mac and other accounts or devices. With SyncMate you get two features in one tool - Mac data transfer and Mac data synchronization. Any device you connect to your Mac will be mounted as a Mac OS X disk and you can easily transfer and sync data.
Safety is guaranteed when using SyncMate since all the data syncing is performed directly between the Mac and your connected device, no extra storage places used.
If you want flexibility and functionality, SyncMate is the only app that offers you plenty of both. No need to find several apps for different types of data when you want to sync between Mac and Android or other OS. Even more, SyncMate enables you to sync absolutely any type of data between supported devices and macOS.
SyncMate Expert
Requirements: OS X 10.10++ ,
49.37MB
size
Version
7.4.452
(
11th May, 2019
)
Release notes
Category:
Utilities