Sync Outlook Contacts with Mac
We are pretty sure you already know Apple's main marketing strategy - make you use their products exclusively and their software apps solely.
Other online services, including the ever popular Google, allow data access through web interface. However using this method is not always the most convenient.
Synchronizing Outlook with Mac is not a hard task, however once you go a little advanced - like automatic synchronization - you may bump into certain difficulties. That's exactly when you'll need some help from a specialized app to perform synchronization not just automatically, but also in a safe and smooth manner. SyncMate allows synchronizing not just Address Book, but other data in your Outlook online account as well. Once you install SyncMate you'll need to setup your preferences once, and from then on it will sync data in the background without you having to interfere even slightly.
Due to macOS limitations SyncMate only syncs with online Outlook accounts; sync with desktop Outlook app for Mac is not supported at this time.
About SyncMate in brief
The great thing about SyncMate is that it combines a variety of syncing features for a large range of devices and computers. You can synchronize your Mac with multiple devices and online accounts. MTP devices, devices mounted as disks, Android and iOS devices, Microsoft services, you name it.
Sync Outlook contacts with Mac Address Book
We strongly recommend you to backup your data before performing the first synchronization.
Download and install SyncMate on your Mac. Open the application.
In the main window of the app go to the left panel and click 'Add New' link. The wizard will assist you further, make sure to click Microsoft Services button to select Outlook.
Log in to your account, so that SyncMate can access your data.
Set up the parameters up to your needs.
Click 'Sync'.
With such options as AutoSync, backup and more, all important data is always up to date.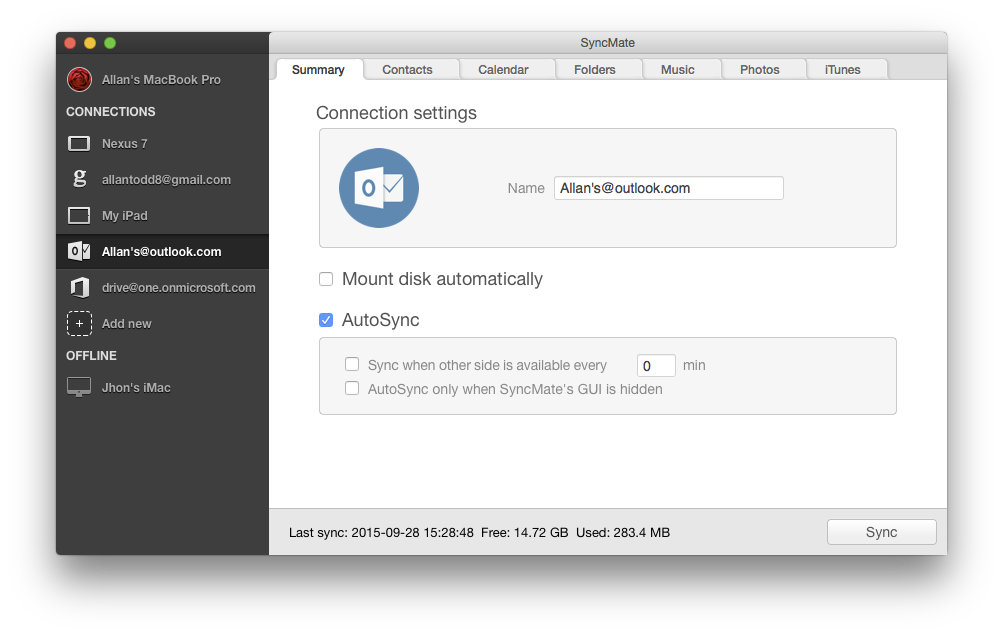 Summary
Additionally to syncing Contact info and Calendar events, SyncMate will take care of your media files, iTunes and Photos content, will let you mount online storages as disks. You can easily sync many devices and accounts at the same time.
SyncMate Expert
Requirements: OS X 10.10++ ,
49.37MB
size
Version
7.4.452
(
14th May, 2019
)
Release notes
Category:
UtilitiesApplication