Mac file synchronizer helps to sync your data with any device
To sync files on your Mac with any device or online account, SyncMate is the only app you'll need. Sync photos, music, apps, contacts, and more, so when you're away from your Mac, you still have your files. It's a one-stop-shop for connecting your Mac to your phone, tablet, and other computers with ease.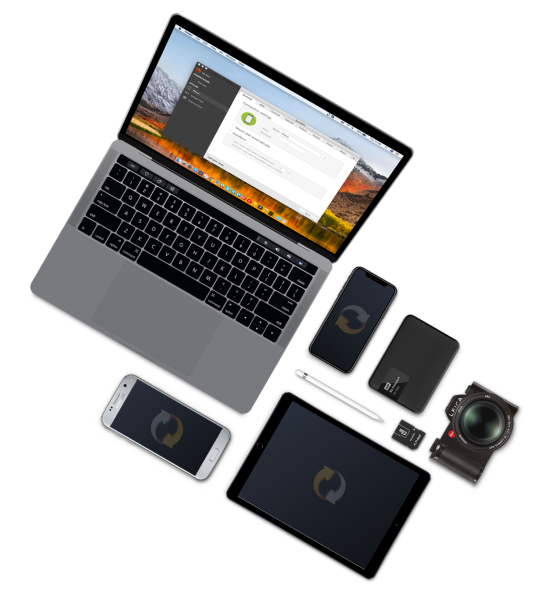 Sync devices
With SyncMate, you don't need to manage multiple solutions to keep your Mac synced with other devices and accounts. Using a single, easy-to-use Mac file synchronizer, share files on your Mac with Android devices, iOS devices like iPhone and iPad, and even other Macs.
Sync cloud services
If you use multiple cloud services like Dropbox, Google Drive, and Microsoft services, you know how tedious it can be to share files across these accounts. SyncMate can turn your computer into a Mac synchronization hub that lets you share files easily between any cloud services.

Microsoft services
Many companies use Microsoft services to keep their employees connected and to let them access files digitally. If you want to sync files from Microsoft OneDrive's cloud storage, you can simply use SyncMate on your Mac to transfer the files you need wherever you need them!
Sync even more
Aside from phones, tablets, computers and cloud services, SyncMate facilitates Mac file synchronization for MTP devices, mounted devices, and Apple iCoud. Whether you want to connect a camera, media player, or share iCloud files with an Android, SyncMate simplifies and streamlines all your Mac syncing needs.

MTP Device
MTP or media transfer protocol, is a device sync setting that lets you access media files on a phone, digital camera, media player, or any other portable device you can connect to your Mac. SyncMate lets you choose your sync settings for MTP devices to synchronize files to your Mac when connected.

Mounted device
A mounted device could be any device you connect to your Mac's USB port to sync data. To transfer files from the device to your Mac or vice versa, simply connect the device to your Mac, select your sync settings, and sit back while your files sync automatically.
iCloud
Organizing your calendar, reminders, and contacts in the iCloud is a lifesaver, and SyncMate lets you keep that data synced on your Mac and any device you use. Set up autosync to ensure that your Mac and devices are always in tune with your most up-to-date iCloud files and data!
The frequently asked questions

#1 at Utilities
SyncMate Expert
Mac synchronization software
4.5
rank based on
795
+ users
Get a download link for Desktop
Submit your email address to get link for quick download and get started!
Requirements:
,
57.16MB
free space
Pricing:
Starts from US$39.95
Languages:
Deutsch, English, Français, 日本の, Русский, Español, Norwegian