The list of best Android file transfer software
for Mac OS X
Naturally, Mac computers will work smoothly with iPhones, but what if you have an Android? And you are not the only one who prefers an Android phone over an Apple product. So finding an Android file transfer for Mac is vital for many.
There are great options out there to sync and transfer files between Mac OS X and Android, you just have to find the right one. In this article we have reviewed some of the best apps for Android file transfer.

First comes SyncMate. This app has a galore of various features and actually supports multiple other devices too (if you may ever need another sync direction). This app allows mounting Android devices as separate Mac disks. You'll be able to freely browse through Android phone or tablet folders and transfer files back and forth. Simply drag the files onto the required folders. Fast, easy, reliable.
As much as file transfer is a good enough solution, SyncMate can actually sync data between Mac OS X and Android. Sync is different from just transfer, data gets updated on both devices and it can be done automatically without you having to move a finger. Sync Address book, Calendar, Music, Gallery, etc.
Download for FREE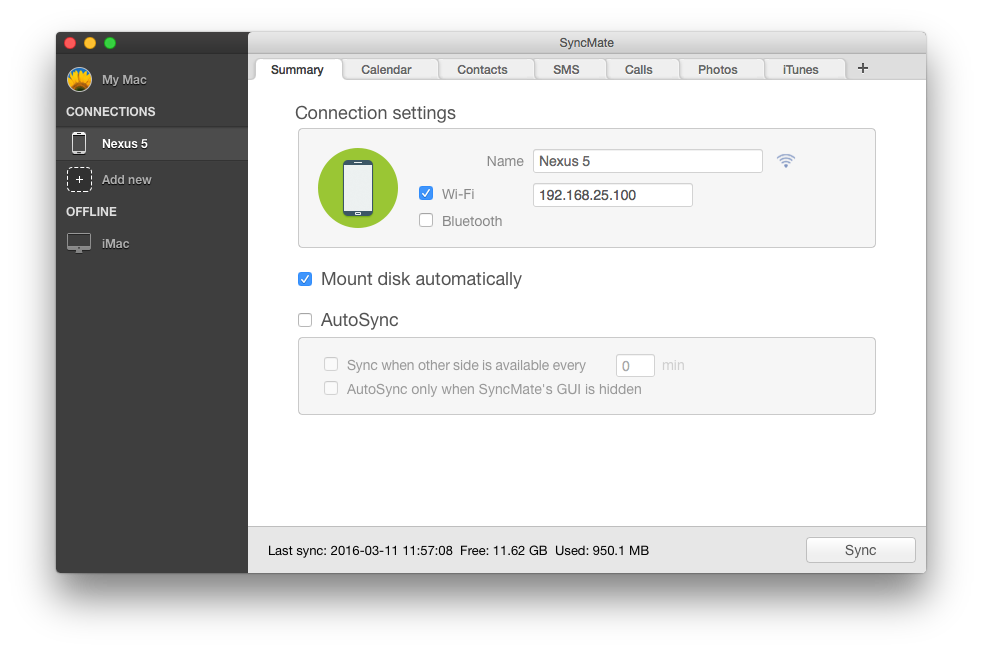 This is a different type of app than SyncMate, but still worth the attention. Commander One allows you connecting Android device to Mac OS X via USB and immediately seeing it in this file manager as a Mac disk. Now you can work with your device just as with any other local drive. Because this app is dual-panel Android file transfer for Mac OS X is a real no-brainer there.
In Commander One you can also connect to the most popular cloud storage service, browse files on iOS devices, work with archives and hidden system files, use Terminal Emulator and manage current system processes.
This is the only native utility that could be rather helpful in file transfer, but unfortunately it has not been updated for several years and the interface is not easy to understand. Also it doesn't let you transfer more than one file at a time, so it may just take forever to get the job done.
This little app allows data transfer over LAN and is available for Windows, Mac OS X, Android and Symbian systems. It is rather compact and only offers one feature, that is file transfer.
With Droid NAS you can connect Android devices as network disks. The folders you can access and work with are: SD card, Camera, Downloads, Music, Photos.
Cloud services
Using cloud storages is also an option even if not the most convenient one. It adds an extra step to the process but is helpful when you don't have other options. You may already have a Dropbox or SugarSync account and can make use of those.
Thanks for reading through the list of Android file transfer software for Mac OS X- choose what suits you best!
SyncMate Expert
Requirements: OS X 10.8.5+ ,
53.1MB
free space
Version
7.2.407
(
17th May, 2018
)
Release notes